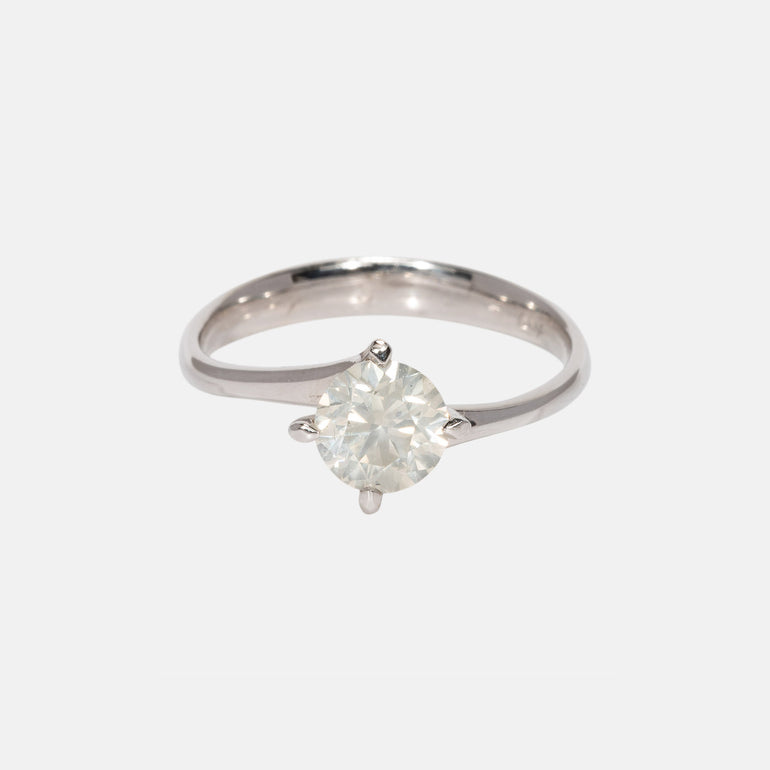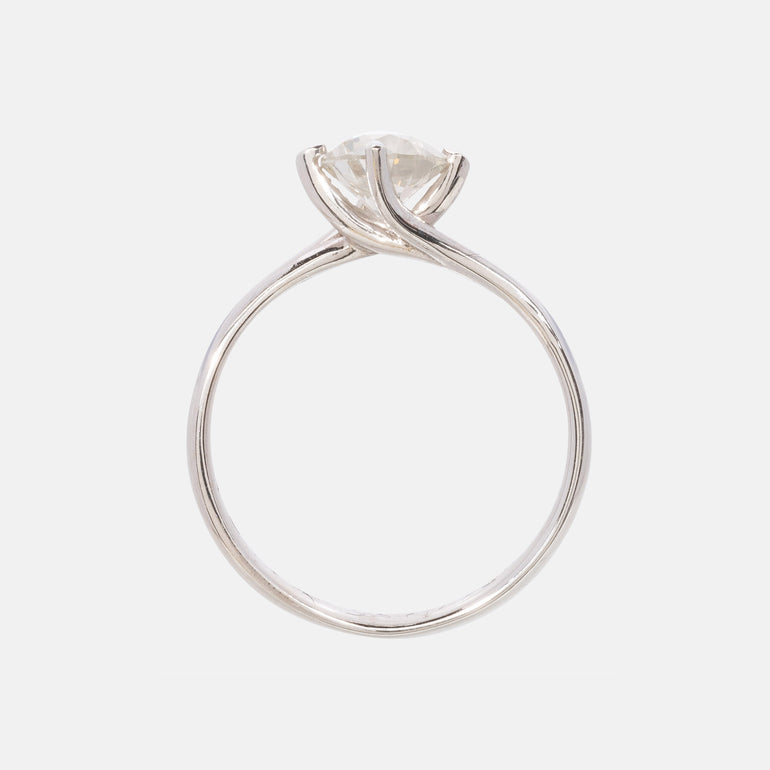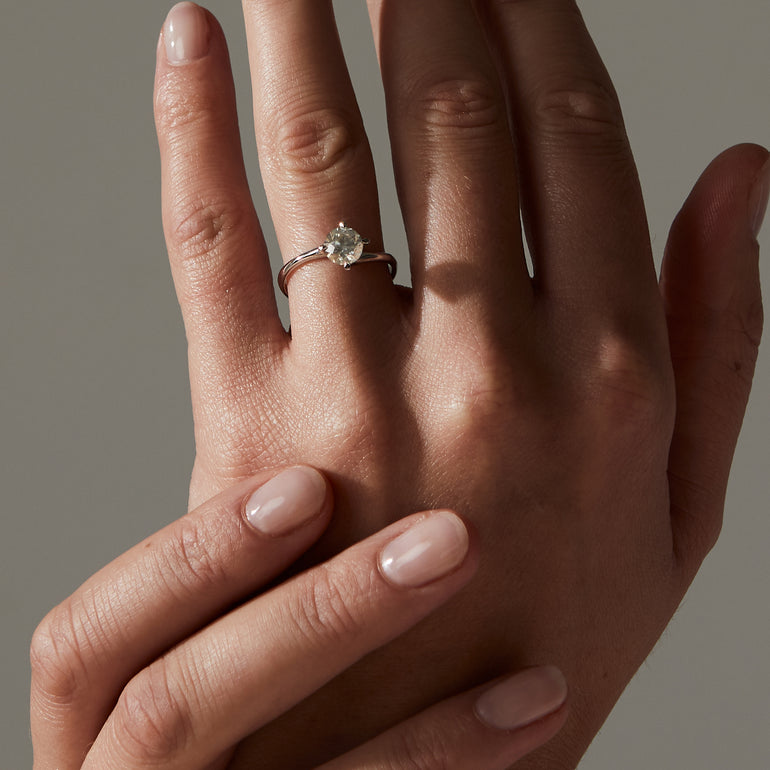 Briljant Geslepen 1.01kt Solitaire Verlovingsring 14 karaat goud
---
Beschrijving

Verzenden

Ophalen

Retourneren
Een unieke 14k witgouden ring met een natuurlijke briljant geslepen diamant. De asymmetrische band van de ring maakt deze ring tot een verfijnde en stijlvolle ring. De diamant solitair is perfect als verlovingsring of als tijdloos sieraad. 
Materiaal 
14 karaat witgoud, Gewicht ring: 2.18 gr.
Edelstenen
Steen soort: Natuurlijke diamant
Manier van slijpen: Rond Briljant
Karaat gewicht: 1.01 ct.
Kleur: J
Helderheid: SI2
Slijp beoordeling: Very Good
Certificaat: AIG Milan - J3111216823
Service
Onze in-house goudsmid maakt deze ring gratis op maat, houdt rekening met 2-4 weken verzendtijd bij op maat maken. Laat een notitie achter met de gewenste maat, de ring sneller nodig? Vermeld dit bij de notitie
Boutique
Kom langs in onze boutique in Rotterdam om deze ring te bekijken of e-mail ons hello@objetdore.com voor een privé afspraak 
Plaats je bestelling voor 15:30 uur en we verzenden jouw bestelling dezelfde dag.
We verzenden van dinsdag tot en met zaterdag.
Bestel je op zaterdag na 15:30 uur, zondag of maandag? Dan wordt je bestelling ingepakt en verzonden op dinsdag. Het langere wachten is het waard!
Haal je je bestelling liever op in de boutique? Geen probleem! Kies voor pick up en je ontvangt een bericht wanneer je bestelling klaar staat om af te halen.
Tijdens openingstijden (dinsdag t/m zaterdag 10:00 - 17:00) zijn bestellingen meestal binnen 1 uur klaar voor afhalen.
Bestellingen geplaatst op dinsdag t/m vrijdag na 16:00 uur zijn meestal de volgende dag klaar vanaf 11:00 uur.
Bestellingen die op zaterdag na 16:00 uur, zondag of maandag worden geplaatst, kunnen meestal vanaf dinsdag 11:00 uur worden opgehaald.

Ophaaladres:
Objet Dore Boutique
Freericksplaats 21A
3054GJ Rotterdam (Hillegersberg)
Is het geen liefde op het eerste gezicht? Geen zorgen!
We hebben een 30 dagen retourbeleid.
- Je kan jouw bestelling gratis retourneren in de boutique.
- Je kunt je bestelling ook terugsturen. We zullen de retourkosten inhouden op het terug te ontvangen bedrag.
Nederland
€3,95

België, Duitsland, Italië, Frankrijk, Oostenrijk en Luxemburg
€7,95

De rest van de EU
€15,-
---
Verzekerd verzonden zonder extra kosten
Bestellingen voor 15:30 worden dezelfde werkdag verzonden
Je kunt jouw bestelling ook ophalen in onze boutique in Rotterdam, Hillegersberg.
---
---
Vragen of styling advies?
Het is onze passie om je te helpen bij het vinden van het perfecte sieraad! Neem gerust contact met ons op.
Briljant Geslepen 1.01kt Solitaire Verlovingsring 14 karaat goud